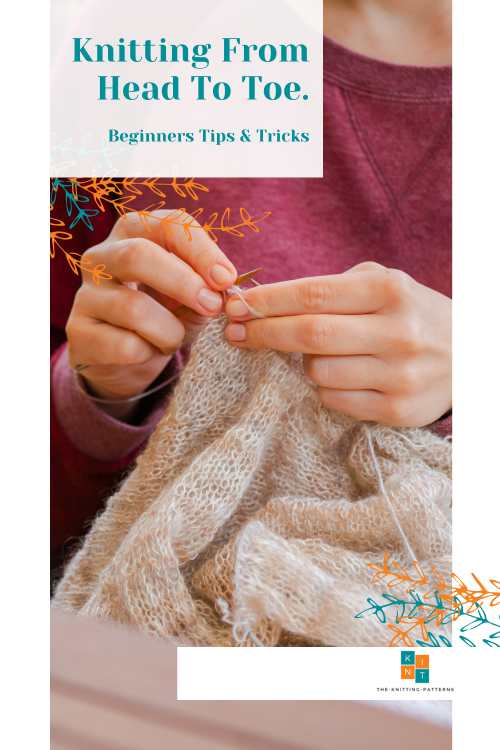 Knitting From Head To Toe – Beginners Tips & Tricks
Although the popularity of knitting has taken a hit over the last couple of decades, this rewarding hobby is still firmly planted in the hearts of millions of people across the planet, and for good reasons. Not only is knitting extremely relaxing, and enjoyable, it is also incredibly productive, thanks to the hundreds of different knitting patterns you can follow to make virtually anything you can think of. Knitting has been used to produce clothing for thousands of years, and this tradition doesn't seem to be going anywhere any time soon.
Whether it's a hat, a scarf, a sweater or a pair of socks, the never-ending choice of patterns to follow will allow a knitting hobbyist to produce warm, comfortable pieces of clothing and accessories, whenever they want. What you do with them is completely up to you – You can wear them yourself, give them to family members, and even sell them for a little extra income. The choice is yours!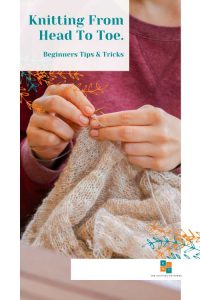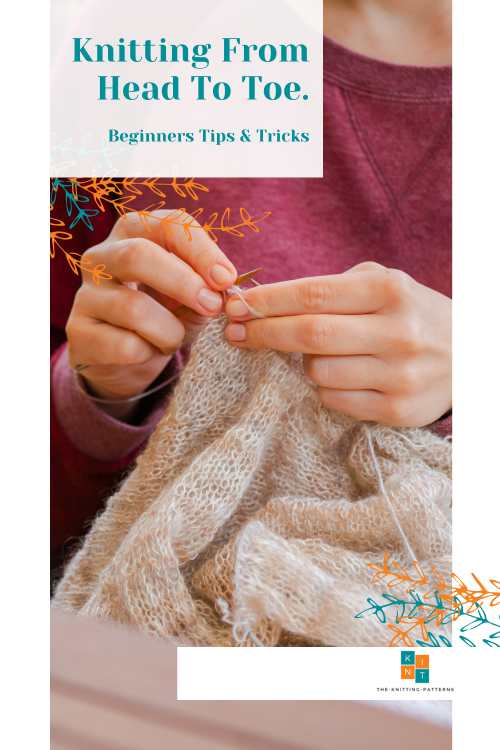 This article is a collection of some of our most helpful tips and tricks, which you can use on your journey to creating your own knitted garments. Throughout this article, we will assume you already know the basics of knitting. If you don't, then we recommend that you check out our Beginners Guide To Knitting, before you move on.
Without further ado – Let's get started!
How To Knit a Hat (For Beginners)
It's winter time, and you can't be bothered to go out and buy yourself a nice, warm hat. What's the next best solution? Knit one yourself! If you have the needles, some quality yarn, and a couple of hours to kill, then making a warm, cozy hat is not as hard as you think.
The first step, when knitting a hat, is to measure your head. It would be a waste of time and energy to create something that didn't fit you properly. To make the estimations simpler, we recommend measuring in inches. Once you know the circumference of your head in inches, it's time to knit a swatch. It doesn't have to be big – Just big enough for you to find out how many stitches there are per inch. Once you know this figure, simply multiply the number of stitches per inch with the measurement of your head. You now know exactly how many stitches are required per round to create a perfectly fitting hat. Easy, right?
The rest of the process is incredibly simple. It's just a case of casting on the required number of stitches and then joining you're cast on stitches in every round, remembering not to twist them. Twisted rounds are impossible to fix, so any mistakes will require you to start all over again. Next, you simply continue knitting until you have completed the correct amount of rounds required, to make your hat fit nice and snug.
The most difficult aspect of knitting a hat is decreasing and casting off. However, don't let this part of the process put you off. It's not that difficult!
To make your hat progressively smaller every round, you will need to know when to start decreasing. Place a stitch marker ever 8 stitches, and then when you finally reach 2 stitches before the marker, simply decrease, and continue this same pattern until your hat is almost closed. Next, you need to cut the remaining yarn to around 15-20 inches and remove the needle. Using either a darning needle or a crochet hook, simply pull the remaining yarn through the last few stitches, one at a time, to make sure the hat is fully closed and completely tight.
The last step in creating a knitted hat is to pull the last few inches of yarn through the inside of your hat, cutting it down to a few inches in size, and weaving it into the inside, to keep it tucked away, and out of sight.
That's it. Let's move on!
How To Knit A Sweater That Fits You
Knitting a sweater is the holy grail of knitting for a lot of people, and although the process becomes easier the more you practice, for beginners, it can be incredibly challenging. It's not necessarily the knitting pattern itself that trips up the beginners, it's the inability to create a sweater that actually fits properly. Anyone with a limited amount of knitting experience could follow a sweater knitting pattern and create something wearable, but creating something that you will actually enjoy wearing is another story.
When it comes to knitting a sweater that fits you perfectly, there are a few things to keep in mind.
1. How do you like your sweaters to fit? Not all sweaters are created equally. Some are loose, some are tight, some are turtlenecked, and some are v-necked. The possibilities are endless when it comes to creating a knitted sweater, so in order to create something that you will actually wear, it's important to know beforehand what type of sweaters you prefer to wear. Chances are, there will be hundreds of knitting patterns to suit your personal style, but if you don't know what your style is, then finding them can be difficult. If you are struggling to decide what type of sweater you want to knit, simply take a look at a few of your current sweaters, and choose a design, and style you like the most. Choosing a pattern that resembles a sweater which you already enjoy wearing, will make the process a lot more enjoyable, and rewarding.
2. Practice, Practice, Practice! Sweaters can be mentally demanding for a newcomer to the knitting world, and because there are so many different aspects to knitting a wearable sweater, it is crucial that you are comfortable with all of your basic techniques. Knowing how to garter stitch is fine for blankets, but when it comes to knitting a sweater, you will need a broader set of knitting skills to make something that at least resembles a sweater. If you are not fully comfortable with all of the basic techniques, and the vast knitting vocabulary, then instead of diving straight into the deep end, we would highly recommend that you hone your skills on a blanket, a baby hat, or something else which is less demanding.
3. Know how to measure, and adjust accordingly. A lot of beginner knitting patterns for sweaters are often limited in the ability to adjust according to your own requirements. More often than not, the only sizing pattern that is taken into consideration on a knitting pattern, is the bust size. While the bust size is possibly the most important measurement to adhere to, it's not the only one. However, for you, beginners out there, don't be completely discouraged just yet. Almost all knitting patterns will come equipped with a schematic, which will allow you to measure all of your measurements, and adjust them accordingly. Knowing how to adjust the knitting pattern is a skill in itself, but with a little bit of reading, you will have it covered in no time.
4. Don't be afraid to make mistakes! Knitting is a hobby, and it should be an enjoyable experience. Everyone makes mistakes, so it's important to remember not to beat yourself up over the small errors you will make along the way. The majority of them are an easy fix, and since the only real investment is your time, starting over again isn't necessarily a bad thing to do. When you are just getting into knitting, we would actually encourage you to make mistakes, because it's these mistakes that will teach you real, valuable lessons. There is only so much you can learn from reading knitting handbooks and watching YouTube videos. Nothing can replace actual hands-on experience. Don't take it too seriously, and enjoy the ride!
Knitting a sweater is the pinnacle of the knitting hobby, and it's the main goal for a lot of beginners who are just getting started. Creating a quality sweater that fits you just the way you like it will take a lot of time, and a lot of trial and error. Don't let your mistakes knock you back – Simply try again, and before you know it, you will be knitting sweaters in your sleep!
5 Crucial Tips For Knitting Socks
While a sweater may be the pinnacle of the knitting hobby when it comes to the skill required to create them, when it comes to comfort, nothing can beat a good quality pair of well-knitted socks. Store bought socks will never come close to the superior level of comfort that a home-stitched pair will, and if you know what to look out for, knitting your first pair isn't really difficult at all.
We promised some awesome tips and tricks at the beginning of this article, and we hope that so far you have found some value, but if you haven't, be prepared to have your socks blown off! (Sorry – We couldn't help it!)
1. If you are knitting socks for the winter time, and you want to create a thicker, more dense sock that will stand the test of time, then try using a slightly smaller needle for the foot portion. Don't make the drop in needle size too drastic – One size down will do the trick.
2. Not all yarn is created equally, so choosing the wrong type can spell disaster for your new little footnotes. Cotton yarn is too soft, so your socks will lose their shape after just a couple of times wearing them. Wool or a wool and nylon blend is soft enough to keep your feet warm and toasty, but elastic enough to roll with punches.
3. When it comes to washing your new handknit socks, we recommend that you avoid using hot water. No matter how good of a knitter you are, and no matter how great the quality of the yarn was, washing a pair of handknit socks in warm water will eventually cause them to shrink.
4. The most common tip given by knitting books and websites is to always use double-pointed needles when knitting socks. The only problem with double-pointed needles is the development of ladders that can occur after a short amount of time. To combat this problem, we recommend that you learned the magic loop method. Utilizing this method will keep your knitted socks tight, and ladder free for a lot longer.
5. In order to prevent the unmistakable gusset hole that can appear at the base top of gussets, you can try picking up an extra stitch at each gusset base, while working them together with the edge instep stitches of the next row.
6. To ensure that the join between the heel flap and the gusset is as tight as it can be, try picking up stitches through stitches of the chain edge along the heel flap. Doing this will twist the stitches into place, making sure they don't come loose.
Knitting is a broad subject, and its vast amount of knowledge dates back thousands of years. It doesn't matter how experienced a knitter may be, there are still certain tips and tricks they can use, to make their life that little bit easier. Whether you are new to the world of knitting, or whether you have a ton of experience, we hope you found a few little gems within this article that you can use on your own knitting journey.