Pennys Felted Bag Free Knitting Pattern
This little felted handbag is knitted in gorgeous Colinette Skye yarn, lined with fabric &
decorated with little fabric flowers. It's easy to knit – techniques used are knitting in the round, increasing and decreasing, picking up sts & grafting.
SIZE
One size, small handbag – big enough for a wallet and phone and lipstick!
MATERIALS
Colinette Skye [100% Wool; 183m/100g hank] 2 hanks in colour Honolulu
6.5mm, 60cm long circular needle
4 sts markers
2 stitch holders
Tapestry needle
Lining fabric (I used Kaffe Fassett fabric)
Tulle for flowers
Matching sewing thread
GAUGE
12 sts/18 rows = 4 inches in stockinette st – this is unfelted gauge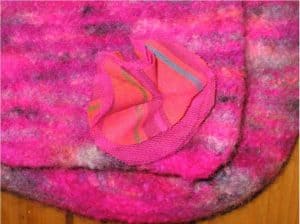 Pennys Felted Bag Free Knitting Pattern Instruction
The base of the bag (worked back and forth in rows):
Cast on 35 sts using 2 strands of yarn held together
Work 20 rows of garter st (knit every row)
Main section (worked in the round):
Now working with 1 strand of yarn, place marker, pick up and knit 20 sts along one edge, place marker, pick up and knit 35 sts along next edge, place marker, pick up and knit 20 sts along final edge, place marker, k35, 110 sts
Work in the round in st st until work measures 24 cm
Next round: k20, cast off next 35 sts, k55, place next 20 sts on a holder, turn and work flat
from now on
Next row: p35 place next 20 sts on a holder
Work in st st on these 35 sts until flap measures 27 cm, ending with a purl row
Dec 1 st at each end of the next 4 rows
Cast off rem 27 sts
Place sts from one holder on needle
Working flat in st st, dec 1 st at each end of next 6 rows, 8 sts
Work in garter st until strap measures desired length, or until only a few yards of yarn remain, ending with a WS row
Working in st st, inc 1 st at each end of next 6 rows, 20 sts
Graft these sts to the 20 sts on the other holder, taking care not to twist the strap
FINISHING
Felt the bag in a washing machine at 60°C, putting some jeans in the wash for added agitation if desired.
To line the bag cut 2 pieces the same shape as a bag with an extra 1.5 cm for seam allowance and an extra 2 cm at the top.
Stitch the 2 pieces together along all edges except the top edge, fold top edge over and stitch down, and then slip stitch lining into the bag.
For flowers, cut 2 circles from fabric and 2 from netting for each flower.
Layer the circles, secure together with in the center, then work a circle of running stitch around the center of the fabric circles, about 1cm from the center.
Pull the thread tightly, which pulls the circles into a flower shape, and stitch these to the bag, making extra small stitches into the fabric to secure the flower shape.