Elegant Lap Rug Free Knitting Pattern
I wanted to make an elegant, simple lap rug in dark tones, that would suit a modern stylish household, and that a guy (my brother, in this case) would like – white and lacy was definitely out. It needed to be a pretty quick knit, and a simple pattern with enough interesting bits that I didn't go nuts. I also didn't want to have to sew anything together at the end.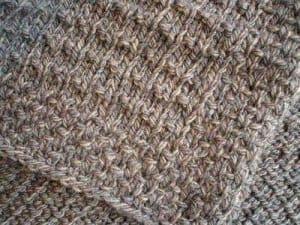 After searching through stitch dictionaries, and knitting quite a few swatches, I came up with this combination, which is easy to memorize, simple to figure out where you're up to in the pattern if you set it down for a while, knits up quickly, has a wonderful understated texture, and was a pleasure to knit. I hope you enjoy it too!
by Denise Sutherland
An Easy Knit: suitable for beginners
Materials For The Knitting Pattern
8 x 50g balls of an Aran or Worsted weight / 10 ply wool blend. I used Paton's Inca, colorway 7008 (58 meters / 63 yards per ball). Inca is a 50% wool, 30% acrylic, and 20% alpaca blend.
It's a good idea to choose a yarn that can be washed easily, especially if this is a gift for non-knitters who might just chuck it in the washing machine!
6 or 7 mm needles;
an 80 cm circular works well (knit back and forth, not in the round)
2 stitch markers
Darning needle
Gauge
About 10 stitches: 10 cm / 4″ – not important (isn't that nice for a change?)
Size
About 70 x 120 cm (26″ x 47″)
Abbreviations
K: knit
P: purl
wyif: with yarn in front
slip 1: slip one stitch from the left-hand needle to the right-hand needle without knitting it
RS: right side of work facing you
WS: wrong side of work facing you
Find the full free knitting pattern here.