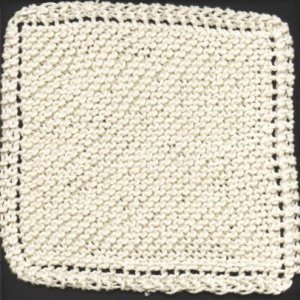 Grandma's Favorite Dishcloth Free Knitting Pattern
Grandmother's Favorite Dishcloth
Designer: Unknown
The cloth in this photo was stitched by Joyce Skeens.
Rating: Easy
Materials: Sugar and Cream yarn; Size 6 or 7 needles (US)
Instructions:
Cast on 4 stitches
Row 1: Knit 4
Row 2: Knit 2, yarn over, knit across the row.
Repeat Row 2 until you have 44 stitches on the needle.
Row 3: Knit 1, Knit 2 together, yarn over, knit 2 together, knit to the end of the row.
Repeat Row 3 until you have 4 stitches on the needle.
You can now either bind off or do a round of single crochet and make a little loop of chain stitches in one corner so you can hang the cloth to dry when you are finished using it.

A Story From The Creator Of The Pattern

Contributor's Note: My grandmother found out that I had learned to knit. She called me up to ask me if I would knit her some dishcloths. I told her I would, but I had never made any (so I needed a pattern). She explained that her older sister, Thelma (who is 99 this year), had always made these for the family and sent me a box with the pattern and a whole bunch of the "Sugar and Cream " yarn. The pattern goes so quick, that I have made some for, well, everyone in the family.
Wendy's Warning: None of my friends had ever used one of these cloths before, and once you give one away and they find out that you can Scrub Glass with one, you will be knitting these things for the rest of your life. Just ask Great Aunt Thelma!
This pattern was contributed by Wendy.