Teddy Bear Sweaters Free Knitting Patterns
Do you want to give a small creative touch to your teddy bears? If yes then you are in the right place!! These teddy bear sweaters free knitting patterns are easy and fun to make. Create unique and cute knitted sweaters for teddy bears. A great way to make a simple gift such as a teddy to something for personal and unique.
Basketweave Bear Free Knitting Pattern Dress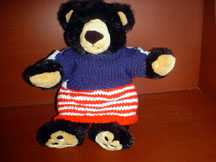 This dress will fit a sitting bear who is 14 tall from the top of the head to the tail. The chest is 18.
Materials: Size 9 -16 circular needle or double points
Worsted weight yarn, approx 2 ounces in 2 colors
Bottom of skirt:
Cast on 92 stitches and place a marker at the beginning of the round
Row 1-4 Knit
Row 5, 6, and 7: K2, P2 around
Row 8, 9, and 10: P2, K2 around
Repeat rows 5-10 until skirt measures 6

Begin decreasing:
Row 1:K2, K2 tog around (69 stitches)
Row 2: Knit
Row 3:Knit decreasing 5 stitches evenly around the row (64 stitches)
Row 4: Knit
Change yarn to second color and Knit for 1.

Start Sleeves:
Knit 32 stitches and place remaining stitches on a holder or waste yarn
Working back and forth now,
Row 1: Cast on 9 at the beginning of the row, K4, P 37
Row 2: Cast on 9 stitches , K 50
Row 3: k4, P 42, K4
Row 4: K
Repeat Rows 3 and 4 until sleeve is 4
Bind off
Attach yarn and pick up 32 stitches from holder and repeat rows 1 through 4 until sleeve is 4
Sew across top of sleeves leaving a 5 1/2 opening in the center for the neck.
Sew underarms of sleeves.
Patriotic Bear Free Knitting Pattern Sweater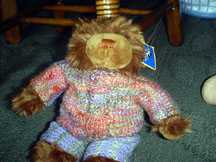 (fits same size bear as the Basketweave sweater)
Materials:
Size 9 16 circular or double point needles
Size 9 straight needles
About 1 ounce each of red, white, and blue worsted weight
2 white star buttons (optional)
With blue and size 9 straight needles cast on 32 stitches
Rows 1-4: Knit
Row 5: Knit
Row 6: Purl
Repeat Rows 5 and 6 for 1 ending with a knit row
Sleeves:
Row 1:Cast on 9 at the begining of the the row, K 4, Purl 32
Row 2: Cast on 9, K 50
Row 3: K4, Purl 42, K4
Row 4: Knit
Repeat rows 3 and 4 until sleeve measures 4 ending with a purl row
Neck opening:
Knit 17, Bind off 16, Knit 17
Purl 17, pick up 16, Purl 17
Repeat rows 3 and 4 for 4
Decrease 9 stitches at the beginning of the next 2 rows
Knit one row , Purl one row for 1
Knit 4 rows and bind off. Sew under sleeve seams.
Skirt:
Pick up 92 stitches (with circular or double points) evenly around the bottom of the sweater in red. Knit evenly for 2 rows. Changing yarn to white Knit 2 rows. Repeat for 5 1/2, changing red and white yarns every 2 rows
Bottom of skirt:
Row 1 & 3 : Purl
Row 2 & 4: Knit
Bind off
Sew on 2 white star buttons if desired.