Beginner's Guide to Knitting – Basic Things You Need to Know
Reading a beginner's guide to knitting will help you to learn all the basic and more expert stuff around a creative and really fun hobby. Knitting is all about relaxing taking your mind away from your daily problems and at the same time being creative by crafting your own accessories and clothes. Even some people start to knit for profit, by creating unique handmade stuff and selling them online.
Beginner's Guide to Knitting – What You Will Need
First of all some basic stuff you will need to start your knitting adventures is your needles! Needles come in lot of shapes, sizes, and materials. The average needle sizes is 7 and 8 which are a great size for a beginner like you, making them perfect for your first knitting pattern. Higher the number size of your needles the thicker they get. However, the choice of your needles are depending on the instructions you will find in your next knitting pattern.
Secondly, you gonna need some yarn to start giving shape in your favorite knitting crafts. There are a lot of types of yarn that you can choose from. A great place to start and buy yarn is online knitting shops! But, don't forget that you need to read the knitting pattern instructions first to get a first idea of which type of yarn you will need to achieve the best result.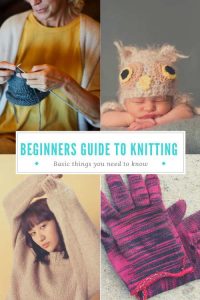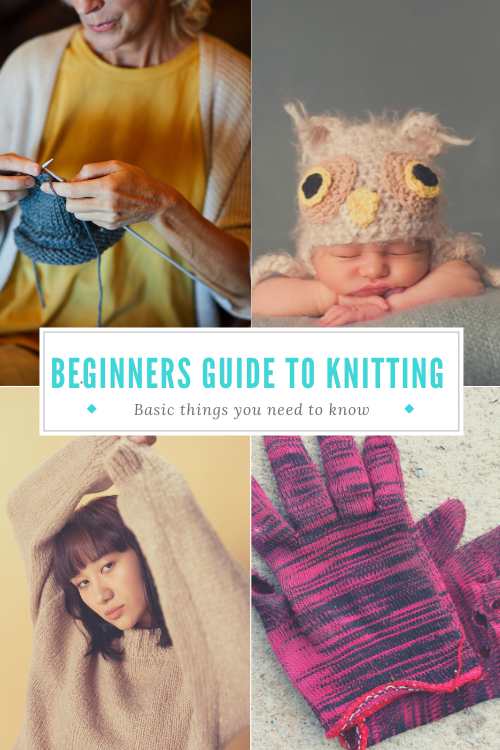 If you just starting to knit, the best choice of yarn will be plain colors with a great texture. Yarn with perfect texture will help you identify your mistake and easily correct them as you work on your project.
When you are more comfortable with using needles and different types of yarn you can easily start choosing different colors and mixed textures to make your knitting crafts unique and stand out.
We suggest you to find an easy free knitting pattern to start, read the instructions of the pattern and then buy your yarn and get your knitting needles ready for some fun time!
Starting With The Knitting
You are excited to knit your first sweater right? Stop right there, we are suggesting you to start practicing and learning some basic knitting techniques. The best first knitting pattern to practice is a scarf! Browse our free knitting patterns category, find an easy knitting scarf and start practicing! When you start feeling comfy using knitting needles then you can get yourself some more difficult knitting patterns like sweaters or hats.
In your way of learning how to knit, you will face complex techniques and abbreviations to got to learn, but two fundamental stitches you need to learn are the purl stitch and the knit stitch. Learning these to basic stitches will give you an advanced on the harder to master knitting stitch techniques.
When you get more comfortable with your needles and stitches, it's a good point to search for an easy & small knitting pattern to start giving life to your yarn balls. Stay away from complex knitting patterns and search for easy ones like scarfs. Scarfs knitting patterns is the best choice for a beginner knitter like you. Plus look for some flat knitting projects so you will not be frustrated with difficult knitting stitches.
Hobbies like knitting need to be improved every day and developing your skills all the time. Keep your desire alive by knitting for 1 -2 hours per day, you don't need to finish the whole pattern in one go, that's nearly impossible for a new knitter.
If you knit every day you surely start making your own clothes cheap or start making a profit from selling your finished knitting patterns online on Facebook or Etsy.
I hope we helped you start your knitting adventures right away, be patient and consistent on developing your knitting skills every day.