Knit A Scarf Using Leftover Yarn
Getting started with knitting some of the easiest knitting patterns to make are scarfs. If you already have some basic experience you can quickly and easily knit a scarf using leftover yarn sitting around your house from other projects. There are a lot of techniques to start making a knitted scarf, below we will explain a new combination of knitting sideways featuring different color and yarn textures depending on your leftover yarn
Choose 3 to 4 different yarn colors with different touches and textures, to give a unique style to your sideways knitted scarf. No problem if your yarn varies from others, knit a scarf using leftover yarn is all about knitting yarn we don't need or cannot make a whole new knitting pattern
Putting it all Together: For each edge of the scarf, I always use a plain solid color and a fairly chunky weight yarn. This frames the scarf very well and also gives it stability in a way that a textured yarn would not necessarily have. Then I just work 2, 3, or 4-row stripes, however, the mood takes me. There are no rules, no right or wrong way of doing it just a lot of creativity and fun!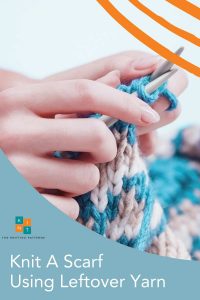 When choosing the yarns, look at the yardage as you may need 2 of one of the yarns if you are intending to use it for more than just 3 or 4 rows. Yarns with lots going on are often heavier so you don't get as many yards as in a plain yarn. Finer yarn is great too as you can always use 2 strands of it. Use plain yarns with different finishes like a ball of wool and silk for example.
Typically use a 36″ long circular needle size 10 or 10.5 and cast on about 220 stitches using bulky weight yarns. Start by measuring the desired length of the scarf and how many times you like to wrap it around your neck. If you use thicker yarn, you will need to use a larger needle and knit fewer stitches.
Now it's time to make some maths so we can figure out how many stitches to make. For example, lets say I use needle size US 15 for a yarn that will get 2 stitches per inch. If I want to knit a 60" long knitted scarf I cast on 60×2=120 stitches. With this in mind, If I want a bigger scarf for example a 65" long, I cast 65×2=130 stitches. Let's say we are making 130 stitches knitted scarf, the number 65 equals the number of inches of the length we want, the value 2 is the number of stitches/inches I am getting when I knit.
From the time you have figured out how many cast on you will make is time to cast off. Now is time to determine how much yarns you will need to leave for the cast-off row. I use the rule of 4, I stretch my leftover yarn across the width of my scarf four times. This way I know how much yarn I have to leave so I can finish my cast-off.
Let's recap and take another example with simple high school maths! If your knitted scarf going to be 60" wide then you will need not more or less 60"x4=240" of extra yarn to cast off. When you are getting closer to the last 120" of yarn is time to give an end to your sideway scarf project. Something to keep in mind when you are knitting a sideways scarf is you must use a needle 1-2 sizes to make the cast-off. That way you will prevent the scarf from cinching from one side. Since you are casting of 1 stitch at a time, the needle size doesn't really matter. Use shorter needles so you can easily maneuver or some double-pointed needles.
What are you waiting for? Get your hands with any yarn leftovers you got in your stash and start being super creative with this unique sideways scarf knitting pattern! Have fun making a one-of-a-kind scarf for yourself or gift it away to someone special!