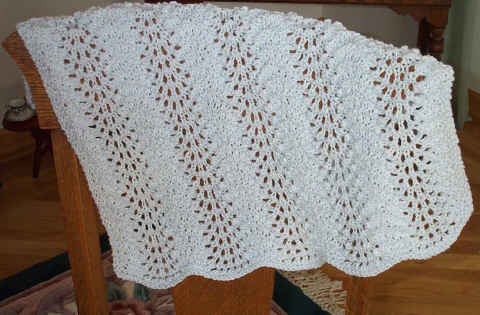 Easiest Ever Lacy Blanket Free Knitting Pattern
The design of this pattern is incredible. The easiest ever lacy blanket free knitting pattern you will find on the web. With fabulous designs and easy steps to follow. This lacy blanket is a great knitted project to follow and learn from it.
Lacy Blanket Free Knitting Pattern Instructions
The blanket measures approximately 18″ wide by 20″ long. Perfect for using in a baby carrier or car seat or for a tiny infant.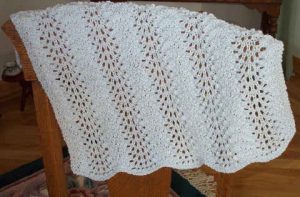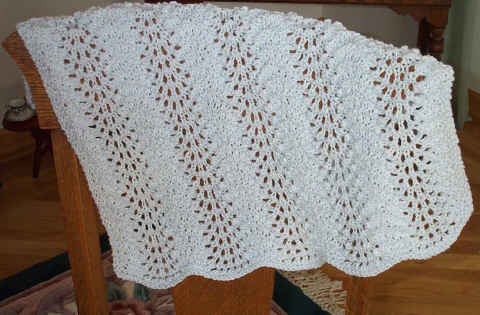 Materials:
6 ozs. Red Heart 3-ply Baby Sport;
Size 9 knitting needles
Gauge: 4 to 5 sts = 1″ (This is difficult to measure because of the ripples!)
Abbreviations: K = knit
sts = stitches
YO = yarn over needle
K2tog = knit two stitches together
Cast on 91 sts. Knit 3 rows in garter stitch for the edging.
Row 1: K3, purl across to last 3 sts, K3.
Row 2: K3, (K2 tog) 3 times, YO, (K1, YO) 5 times, *(K2 tog) 6 times, YO, (K1, YO) 5 times; repeat from * across to last 9 sts, (K2 tog) 3 times, K3.
Rows 3 and 4: Knit across.
Repeat Rows 1 through 4 until blanket measures approximately 20 inches or to desired length. Bind off all stitches loosely.
To make a smaller version using about 5 ozs. of worsted weight yarn and size 9 needles, cast on 74 stitches and follow the pattern rows as written above. This will make a blanket about 16″ wide by 18-1/2″ long.